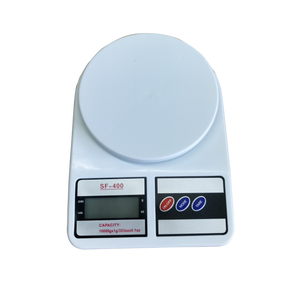 Specifications :
1.Max Capacity 10Kg Min accuracy 1gm.
2.High Precision strain gauge sensor system
3.Auto zero Tracking
4.Low battery indication
5.Large Round weighting pan
6.Outside Calibration.
7.Auto Backlight Optional.
8.Counting Function (Optional).
How to use :

1.Press the key of "mode" and choose the unit.
2.Please keep the scale on flat surface.
3.Press ON/Off Switch until "0.0" is Displayed
4.Put the object(s) on the weighing platform.

ACTIVA Digital Compact Weighing Scale (Platinum) used widely in applications including kitchen and Departmental Stores.The product is made up of plastic and is White in colour. Healthy diet is an essential part of everyday life; do you want to join the ranks of healthy eating? Or are you worry about how to choose a digital kitchen scale? Please pay attention to this digital kitchen scales, it will be your best choice. This is a professional scale designed for kitchen, mail room or even your workshop.
ACCURATE & HIGH PRECISION : Our digital kitchen scale built with high precision Strain Gauge Sensor system, provides you with accurate weight 1g/10000g capacity
TARE : The precise tare button of the kitchen scale lets you deduct the weight of a container from the total weight so that you can calculate the net weight of the contents easily, suitable for both dry ingredients and liquids. such as milk, grains,etc
EASY TO READ : Read measurements quickly and accurately with the clear LCD display. Units include ounces (oz) and grams (g)